Our Patients Testimonials & Referrals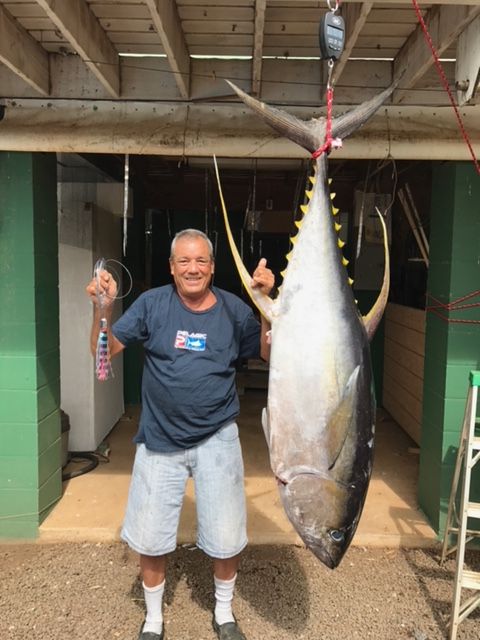 a 64 year old ex-roofer with chronic low back problems who has been under the care of Dr Ogaws since he was in his '40s. He is still able to enjoy fishing. His recent catch was a 170 lbs ahi.
---
Drs. Ryo and Alíce Ogawa are a wonderful, husband-wife chiropractic team who have served the island of Kauai for over thirty years. Their gentle, caring, and extremely knowledgeable methods in chiropractic medicine have benefitted the many patients I have referred to them over the years. As a back pain patient, myself, I have also benefited tremendously from their care. At Ogawa Chiropractic, I can assure you that you will be in the best of hands.
B.A. Hanamaulu
Dr. Arthur Brownstein, M.D., MPH, F.A.C.P.M.
Physician: Hale Lea Medical Clinic, Kilauea, HI
Diplomat: American Board of Preventive Medicine
Founding Diplomat: American Board of Integrative Holistic Medicine
Former Assistant Clinical Professor of Medicine
John A. Burns School of Medicine
University of Hawaii at Manoa
Former United States Air Force Flight Surgeon.

---

I'm a full time cosmetologist so I stand on my feet all day. Ogawa Chiropractic has helped my lower back and head ache problems and they continue to provide me with excellent service!
Jasmine, Kapaa

---
I have suffered from chronic recurrent low back pain for the last 30 years. My back pain is often triggered from yard work and heavy lifting. Getting chiropractic adjustment at Ogawa Chiropractic relieves my back pain and discomfort.
B.A. Hanamaulu.

---

I'm a full time cosmetologist so I stand on my feet all day. Ogawa Chiropractic has helped my lower back and head ache problems and they continue to provide me with excellent service!
Jasmine, Kapaa

---

It was our good fortune to find Ogawa Chiropractic and Dr. Alice Holm Ogawa. Her talent in spinal adjustment and interest in our overall health have been very beneficial to me and my wife.
S.R. Kapaa
---

While vacationing on kauai i was in
need of a chiropractor. i am a chiropractor and when i ran across Ogawa Chiropractic i could not have been happier. the staff was pleasant and very friendly. the doctors were excellent chiropractors who had me back on a longboard in a flash. this office is on top of their "A" game and i give them the chiropractic stamp of approval. if you need a chiro while on kauai....this is the place!
DMBFan, From Google

---

My experience going to Ogawa Chiropractic has
been life-changing. I feel more comfortable in my body, my diet has changed, my energy is up. Dr. Alice Holm Ogawa listens, she keeps up with research, she walks her talk.
Kathleen, From Google


---

I never thought that visits to the chiropractor would be a highlight of winters spent in Kauai. However, Dr. Alíce Holm Ogawa makes that by her excellent chiropractic technique, personal attention to clients, and professional manner. She is extremely knowledgeable in the field of nutrition as well and is able to offer her clients the benefit of a holistic approach to their health concerns. I have found Dr. Ogawa to be delightful, competent bonus to my annual winter sojourns in Kauai.
J. B., Meredith, NH

---
It was our good fortune to find Ogawa Chiropractic and Dr. Alíce Holm Ogawa. Her talent in spinal adjustment and interest in our overall health have been very beneficial to me and my wife.
S.R Omao

---
My first two pregnancies were very difficult with severe nausea, overall discomfort as well as early labor. I decided to try chiropractic care during my third pregnancy. It was the best experience because it helped to relieve a lot of pain and nausea. I was able to carry my third baby to full term. My family and I have received regular chiropractic maintenance care with Ogawa Chiropractic since 1986.
L.F, Kapaa

---

In January, 2011, while on vacation in Kauai, I was struck with sciatica in my right leg with debilitating pain coursing from my hip to my right ankle. An x-ray ordered by a physician showed stenosis between vertebrae L4& L5. Progressive improvement after treatment by Dr. Ryoichi Ogawa in Kauai over a two-month period was noted. Since returning to my permanent residence in New Hampshire, I have been free of pain in my leg for over a year. Dr. Ryoichi Ogawa has also addressed other chiropractic issues associated with the normal wear and tear accumulated during the lifetime of a 77 year-old male.
I returned for continuing treatment during my current vacation in the first part of 2012.
I have found Dr. Ogawa to be knowledgeable, professional, and pleasant.
G.E.B., New Hampshire.


---

I was having pains in my lower groin area for months. Finally went to the doctor and was told that I had Sacroiliitus, back pain. My medical doctor suggested that I see a chiropractor. I found Dr. Ogawa's office and within a week my pain went away. I really recommend seeing Dr. Ogawa for any type of back pain, it really worked. I don't have to take pain pills anymore.
W.M. Kapaa


---

Dr. Alíce Holm Ogawa has helped me immensely with my low back pain. She listens to me, has the outmost compassion, and is gentle with her treatment techniques. Dr. Ogawa has a vast array of knowledge and it shows! She is the best!
L. M. Kapaa

---

My family and I came to Kauai for vacation. During our stay our 3 year old daughter kept us up all night because of an ear ache, painkillers didn´t help at all. We were so lucky that Dr. Alíce Holm Ogawa could give her an adjustment the next day, it helped our daughter right away, the pain was all gone in matter of a very short time. Thank you so much Dr. Alice Holm Ogawa, for helping our daughter and saving our vacation.
I also sought care with Dr. Ogawa for my neck pain. I go regularly to a chiropractor in Denmark because I'm hyper-mobile in my joints; especially my neck gives me many problems. After our long flight to Kauai I badly needed an adjustment. Dr. Ogawa also helped relieve my neck pain with gentle chiropractic adjustments.
Kind Regards

P.D, Esbjerg, Denmark
---

My wife an I were in a bad car accident and my back and neck were in extreme pain. After only a few treatments I felt better than ever and was really greatfull that Dr. Alice was able to take care of us so well. I also really appreciate the techology that she uses and being able to show a clearly defined "before and after" to show how far things improved. She is an expert and I highly recommend her to anyone looking for a great chiropractor.

G.C, Princeville
---
As a licensed practicing massage therapist with over 20 years experience, I can really appreciate the complete care I receive from Dr. Alíce Ogawa. The soft tissue work that she does prior to a non invasive adjustment is brilliant. Her knowledge of nutrition and the emotional component of chiropractic and soft tissue work is sensitive and insightful. She is "total healer".

L.P.M.G. Kapaa
---
Because of my work I spend long hours at the computer. I managed to drum up a nasty case of horrible pain in my right thumb, keeping me awake at night, and almost incapacitating me during the daytime. I went through Xrays, thinking it was arthritis, (it wasn't), had acupuncture that helped somewhat, but not enough to sleep at night, an osteopathic adjustment that didn't help, did homeopathic remedies for inflammation and pain, and nothing gave me any relief. My acupuncturist referred me to Dr. Alice Ogawa, at the Ogawa Chiropractic Clinic in Kapa'a. She pointed out that my problems likely started in my neck and we started a program of adjustments that helped my lower back and neck immensely. Ultimately we realized that I had an atypical manifestation of carpal tunnel syndrome. I went in one day, and after a deep tissue adjustment in my forearm, while it wasn't a lot of fun at the moment, by the time I left the office I could tell something had released. That night I slept like a log, no pain waking me up! Since then we've stayed on top of my neck adjustments as needed, and even though I can't change my computer work and still do a lot of it, so far, after 18 months, I remain almost completely pain-free – unless I do something stupid.
I have heard that "you can't fix stupid" but honestly, when I do something stupid, which I do try not to do, Dr. Ogawa is a lifesaver! She really fixes MY "stupid." Or at least the results of it!"
Cindy L. G.
President and Professional Homeopath, Houston, TX
---